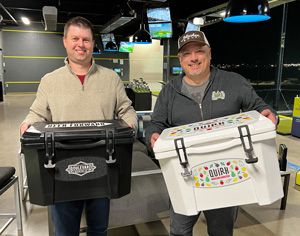 Fall golf is the time of year when the leaves begin to turn, and the local golf courses are so picturesque. You've been playing since the spring, so hopefully, your golf game is hitting its stride. However, this also means that days are getting shorter and temperatures cooler. School and other sports start up again to take our eyes off golf. As we had fewer opportunities to hit the links, we found an alternate solution to keep our golf game alive. That's when we saw the Fall League at Great Shots in Sioux Falls.
When September rolled over on the calendar, our interest in hitting the links was as strong as any point this summer, so when we saw that Great Shots was going to host a Fall League, it was an immediate yes. We did have some trepidation going in as we had never played in this league before. Our excitement, however, outweighed any nerves as we were looking forward to some fun weeks ahead. This fall, there were two leagues, a four-person team on Monday night and a two-person team league on Tuesday's; we played in the two-person league. We got signed up, and the start of the league season was upon us.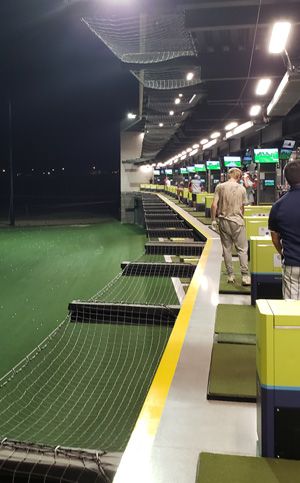 Heading into our first week, we had a lot of unknowns, but we were excited to have a fun night. We didn't have to hunt for our golf balls in the fallen leaves or battle the fall winds here. The league was six weeks long, followed by two weeks of playoff golf. The format was primarily a team scramble, so you always have a teammate that had your back and can lean on them if you have a bad shot. Each week we played a new team in a head-to-head matchup, and to our surprise, we won our match the first night!
Suddenly, week by week, we kept winning matches, and soon enough, we were 3-0. In addition to being a fun night out with fellow golfers, it had shifted to competition. Next came 4-0, 5-0, followed by 6-0, and before we knew it, we finished the regular season undefeated and would be the #1 seed going into the playoffs. We were shocked! Ethan, the league coordinator at Great Shots, advised us no team has gone undefeated and won the championship. We set our goal! Can we be the first team to do it? The first night of playoffs came around, and all 27 teams were placed in a bracket.
With playoffs set to start, we knew we had a big challenge ahead of us. Regardless of the outcome, we looked forward to having fun and playing some of the best teams in the league! The first night came, and we received a bye for the first round and secured two wins to advance to the semi-finals. The stage was for the final night to see if we could compete for the championship and win the grand prize! Our semi-final match came down to the wire, we had some close games before, but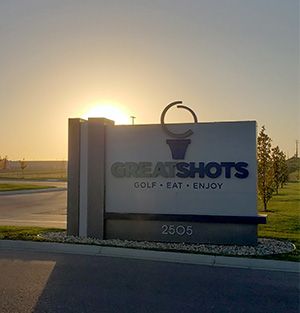 this was so close it went to a playoff! We finished tied after nine holes and played extra holes to determine the winner. Each teammate would play their own ball, combine their scores and the lowest score won. We secured the win, and it was on to the finals! The stage was set. Could we complete the undefeated season and win the championship? To no surprise, we played a tough team, and the match was close the entire way! We got down early, but it was a nine-hole match, and we slowly started to make a comeback. The game was tied after the 8th hole, so it was down to the last hole to see the winner. The final hole we played was a par five, and we reached the green in two to secure a birdie. The pressure was on, and our birdie brought us the win! We were the Great Shots league champions!
When we joined the league, we were looking to have some fun nights with fellow golfers and extend our playing into the shortened days of November. It's safe to say that we accomplished both. Each week we played a new pair of golfers and met some great people. The staff at Great Shots was great for the duration of the league. If you're looking to get out on a weeknight and have some entertainment, this is a great event to consider.