When the spring golf season started, we set an ambitious goal to try and play 25 courses for our 25th anniversary in 2021. After all, the magazine was born from traveling to local courses throughout the summer months and finding the hidden gems to play. We love visiting new courses and finding out what makes them unique. It can be easy to get lost seeing these courses as a dot on the map, so to see them in person and meet the clubhouse staff there is quite a treat. The courses we golfed run a broad spectrum. Some are near and far, first-time visits and old favorites, and 9, 18, and 27 hole courses. This undertaking felt like a perfect way to commemorate a historic year reaching our 25th year in print. We're here to share where we played and some experiences visiting these courses.
By The Numbers, The Furthest Distance Traveled:
Spencer, IA
Distance: 107 miles
Spencer Golf Club was our furthest destination in 2021 and had been on our radar to play for a while. An 18 hole course, we enjoyed the beautiful clubhouse and amenities there. This course winds through some residential neighborhoods, so it has a familiar feel. The tee boxes and course conditions were excellent, and the closing 18th hole had an approach shot unlike anything else we've played. In front of the green is a severely sloped hill that created a land depression and was very fun and challenging to hit the green. It was a perfect way to top off the round.
Standout Course:
Sioux Falls, SD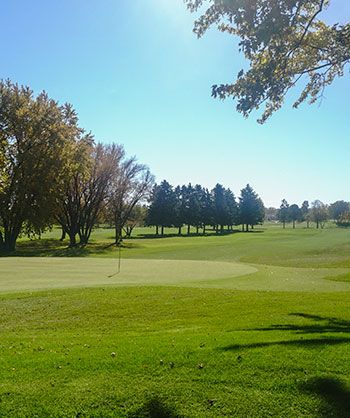 A course in our own backyard comes in as one of our favorites from this golf season. The full suite of amenities here is not to be taken for granted. With premium practice facilities, 27 holes for any style of round you're looking for, and the Fast Five course, you have a winner. Fast Five has been a recent addition in the past few years, and this was the first year that we played it. It is a short par 3 course with 5 holes; this offers all skill levels fun for a short round that takes about 30 minutes. We even had a really cool opportunity to play this under the lights at an event this past summer. The 18 hole routing, designated as the North and West, are perfect for all skill levels. Whether you are a high or low handicap player, they have plenty of tee boxes to choose from. The course is full of mature trees and fun tee shots that make it enjoyable. We've found Elmwood to have a very walkable hole routing, and with the 9 hole East Course available, it's very approachable to find tee times as well. It's easy to see why this course is so popular. If you haven't visited recently, we recommend grabbing a tee time in 2022 to find out for yourself.
Special Recognition
Okoboji, Iowa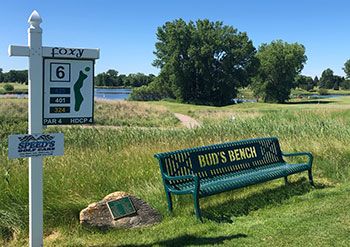 Brooks Golf is one of 4 courses we list with 27 holes on the property. It's truly one of the area's unique courses, and you can tell when you arrive. One of the standout features is the bentgrass, which you often don't see in the area. It's a different challenge to adapt to during your round. There are three distinct 9 hole courses: Blue, Yellow, and White. These offer different challenges and layouts depending on which one you play. There are water features, links-style holes, elevation changes, and undulating greens across the property. Whether you're in Okoboji for a day trip or a weekend, Brooks is one to consider in the new year.
25 Courses Played in 2021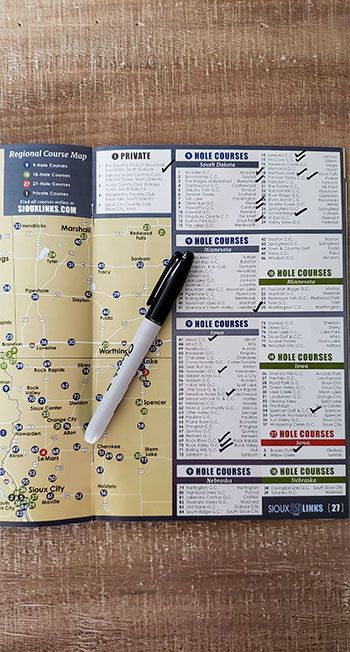 *Indicates a new course played by at least part of our foursome.
Akron Golf Club, Akron IA
*Alcester Golf Course, Alcester SD
Brandon Golf Course, Brandon SD
The Bridges at Beresford Golf Course, Beresford SD
Brookings Country Club, Brookings SD
Brooks Golf, Okoboji IA
The Country Club of Sioux Falls, Sioux Falls SD
Elmwood Golf Course, Sioux Falls SD
Glenridge Golf Course, Irene SD
Hawarden Golf Course, Hawarden IA
Hiawatha Golf Club, Canton SD
Kuehn Park Golf Course, Sioux Falls SD
Lenkota Country Club, Lennox SD
*McCook Country Club, SD
Meadow Acres Golf Course, Larchwood IA
Northern Links Golf Course, Sioux Falls SD
Par Mar Valley Country Club, Parker SD
Prairie Green Golf Course, Sioux Falls SD
Rock River Golf & Country Club, Rock River IA
*Rock Valley Golf Club, Rock Valley IA
*Rolling Hills Country Club, Hull IA
*Spencer Golf and Country Club, Spencer IA
*Sunrise Ridge Golf Course, Colman SD
*Silverback's North Valley Golf Course, Lakefield MN
Willow Run Golf Course, Sioux Falls SD

2022 New Course Wishlist
Landmand Golf Club, Homer NE
Luverne Country Club, Luverne MN
South Ridge Golf and Pub, South Sioux City, NE
Lakeview Golf Course, Mitchell, SD
Cattail Crossing Golf Course, Watertown SD

We logged hundreds of miles playing the Sioux Links region this past year and couldn't have had a better time doing it. It was indeed a great golf season, and we enjoyed meeting new people and seeing everyone at the course. A special thanks goes out to all staff and grounds crew who work so hard during the golf season. Your hard work allows us to enjoy this wonderful sport together. The golf opportunities around the region continue to get better and better, and we can't wait for more!
See you on the links in 2022!